10,000 Municipal UV Installations
Today marks the completion of Trojan's 10,000th municipal UV system installation. Our first was in Tillsonburg, Ontario, Canada in 1983. Since then, our installation base has grown across 60 countries and 6 continents, before fittingly returning to Canada for the 10,000th installation in Point Edward, Ontario.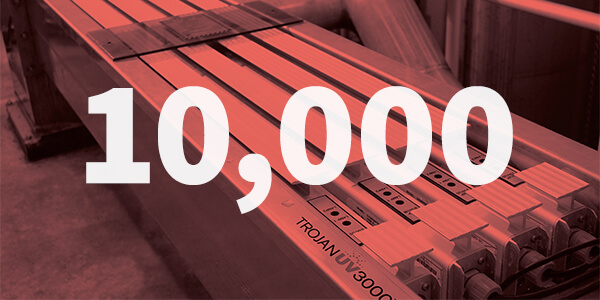 In the 40 years since Trojan was founded, now almost one in five wastewater treatment plants in North America uses Trojan equipment. These installations range in size treating water for a small community with a 4-lamp TrojanUV3000®PTP, all the way up to 2.8 BGD (Billion Gallons per Day) of drinking water in New York City.
More than 840,000 lamps are installed in these municipal systems and are trusted in potable and non-potable reuse, contaminated ground water, wastewater and storm sewer overflows, and drinking water applications.
Our Purpose
We enable customers to meet their water quality objectives by providing efficient solutions that reduce and recover costs, energy, resources and space.
Collaboratively solving problems with our customers, we deliver low-risk, innovative technologies that offer sustainable results.
We ensure greater water confidence and environmental stewardship for people, industries and municipalities, improving the lives of over one billion people globally.
With 750 associates operating from 25 locations in 12 countries, logistics and manufacturing facilities in Canada, USA, Europe and China, and a global network of Certified Service Providers, Trojan is ready for its next 10,000 installations.
At Trojan Technologies we are extremely proud to have been recognized by EcoVadis for our commitment to sustainability and we are excited to announce that we have been awarded an EcoVadis Gold Medal for 2023. With a score of 71/100, we are in the 95th percentile,...