Trojan Technologies Receives ASQ Quality Awards For Excellence
Trojan Technologies was recently honored at the 2014 ASQ Quality Awards for Excellence banquet for being one of two companies in the London, Ontario area to receive the 'Gold Level' award.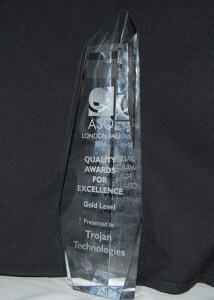 Gold, silver and bronze awards are awarded to teams achieving minimum scores in each awards level. Companies are judged by a panel of ASQ (American Society for Quality) assessors on quality and improvement. Companies also need to have demonstrated real-life applications and success of quality processes.
This judging process allows the participating companies to share experience, progress and setbacks and learn from each other with the intention of raising the quality standards for the entire region.
The Goals of the ASQ Quality Awards
To recognize the quality of excellent achievements of local organization.
To provide these organization with feedback on how to continue their excellent journey.
To encourage organizations in the London area to demonstrate a commitment to continuous improvement, and implement a long-term strategic focus on excellence.
It is hoped that this community of excellent organizations will become the focal point for driving the economic and social engine in the London area.
For the last 30 years, we've been obsessed about developing, implementing, and maintaining the water filtration systems that customers count on to perform like they need, for longer than they expect. Now, as Aria Filtra™, we will stay true to who we are. Our...