Honorary Fanshawe College Diploma Bestowed To Hank Vanderlaan
September is here and students have headed back to school and are hitting the books once again. Back in June of this year, Hank Vander Laan, Founder of Trojan Technologies was honored by Fanshawe College (one of the largest colleges in Ontario), with an Honorary Diploma.
The Honorary Diploma is bestowed by the College to recognize an individual's unique and outstanding impact at a local, national, or global life. In addition, the individual's life should have significantly enriched the lives and careers of Fanshawe College students and alumni. At the ceremonies on June 13, 2014, Hank also served as Guest Speaker.
Some Highlights From Hank's Speech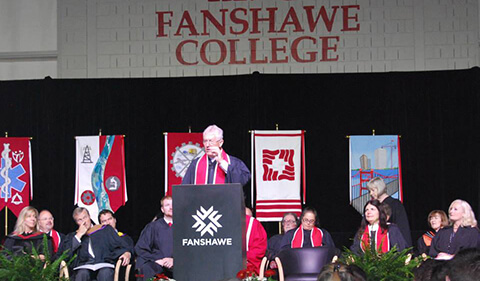 "I look at this honor as a shared recognition of the global success that we at Trojan have been privileged to execute on in over 80 countries in these past three decades or so. My associates, of whom many are graduates of this institution, have allowed me to excel because of their shared vision in bringing water confidence to thousands of communities."
"Not every placement will be the right fit the first time around. I can attest to that personally as I drifted through four or five false starts before I found my right niche. I consider this normal and is a great learning experience in itself. In fact I still have days where I wonder what I should do next even in retirement. You still always look for the next opportunity and find meaningful ways to contribute in the communities in which we are all apart. So be realistic about that as well as you take on your first assignments."
"It should never be a discouragement if your initial start-up does not work out because every sincere effort you make gains you a wealth of experience that you can take forward."
At Trojan Technologies we are extremely proud to have been recognized by EcoVadis for our commitment to sustainability and we are excited to announce that we have been awarded an EcoVadis Gold Medal for 2023. With a score of 71/100, we are in the 95th percentile,...