The Metro Vancouver Drinking Water Treatment Project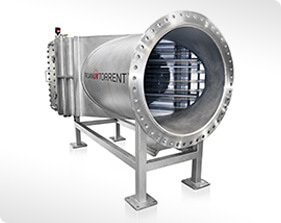 Trojan Technologies today announced that they've been selected by Metro Vancouver to provide the UV drinking water i system for the Coquitlam UV Treatment Project. Trojan will be supplying TrojanUVTorrent® chambers equipped with revolutionary TrojanUV Solo Lamp® Technology. The UV system will be sized to treat 1,200 million liters (317 million gallons) of water per day. UV treatment technology is a physical process that will be used to destroy potentially water-borne microorganisms such as Cryptosporidium and Giardia.
"We are excited and honored to have been selected by Metro Vancouver, and look forward to helping them continue to deliver clean drinking water to their residents," said Marvin DeVries, President, Trojan Technologies. "Our TrojanUVTorrent is ideally suited for this application in many respects – technically, commercially and socially."
Metro Vancouver had specific requirements for this project, all of which were met by Trojan's winning bid. These included:
An energy-efficient solution with the smallest environmental footprint
An easy-maintenance system with low lamp count and the best possible lamp-cleaning system
Flexibility to install the equipment in a vertical piping network
At 1,000 Watts per lamp, the Solo Lamp is the most powerful amalgam lamp in the world, and is paired with the advanced, energy-efficient Solo Lamp Driver. It is no longer necessary to make a choice between energy-efficiency and a small footprint. This revolutionary lamp technology offers the high electrical efficiency of a low-pressure system, while simultaneously providing the low lamp count traditionally found only with medium-pressure systems.
By using fewer and more efficient lamps, the carbon footprint associated with treatment is reduced to less than 1/3 that of medium pressure lamp systems. The increased efficiency of the Solo Lamp translates into a significant reduction in energy, peak electrical loads, and associated electrical infrastructure. Trojan developed this lamp technology over the past five years, working with the industry's leading lamp and lamp driver experts. Extensive laboratory and field testing validated the robustness of the components.  Solo Lamp Technology will initially be used for drinking water treatment with the TrojanUVTorrent, and will form a key platform for Trojan's future water treatment applications.
"We have provided UV systems to some of the largest and most advanced projects in the world, including New York City's Catskill-Delaware Treatment Facility and the Orange County Water District Groundwater Replenishment System," said DeVries. "Our experience and expertise in large-scale projects, coupled with our UV technology advancements, enable us to provide industry-leading treatment solutions. We are very excited to play a role in bringing water confidence to the people living in Greater Vancouver."
For the last 30 years, we've been obsessed about developing, implementing, and maintaining the water filtration systems that customers count on to perform like they need, for longer than they expect. Now, as Aria Filtra™, we will stay true to who we are. Our...