About The Southern Ontario Water Consortium (SOWC)
Trojan Technologies is excited to be a part of the Southern Ontario Water Consortium (SOWC), which features state-of-the-art wastewater facilities across Canada.
The SOWC believes innovation is necessary to solve water challenges, and that innovations become marketable solutions when private sector and academic knowledge are applied in real-world environments.
The SOWC also helps researchers and water technology companies like us connect by making key introductions and supporting coordination and development of projects.
These industry-academic collaborations are able to leverage a suite of unique facilities for real-world water technology research, development and demonstration across SOWC's nine post-secondary partner institutions which are focused on the following areas: wastewater, drinking water, ecotoxicology, watersheds, sensors and data.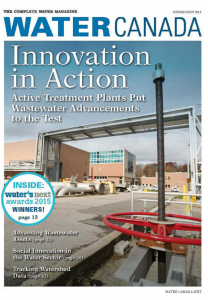 The SOWC is featured on the cover of Water Canada's July/August 2015 issue which states that:
"While wastewater has historically taken a backseat to its more glamorous and visible counterparts – drinking water and stormwater – industry professionals are now noticing a shift in the spotlight. Wastewater Innovation is coming to the forefront …"
Trojan Technologies is excited to be a part of this initiative which is helping to set a new standard for research and innovation.
Vendée Eau is securing a future supply of drinking water with the Jourdain programme, a demonstration facility that will purify treated wastewater to supplement the Jaunay Reservoir Meeting the demand for clean water has never been more challenging. Communities around...