Trojan Technologies raises awareness of groundwater issues in support of World Water Day 2022
LONDON, ON – Trojan Technologies, one of the world's leading providers of municipal and residential drinking water treatment solutions, is recognizing the United Nations UN Water World Water Day 2022 by helping spread the word about groundwater concerns.
"Issues affecting groundwater are gradually becoming more front-and-centre," explains Jo Anne VanHooydonk, acting president of Trojan Technologies. "Media coverage about environmental issues like drought and water scarcity, and instances of microbiological and chemical contamination in groundwater supplies, helps raise awareness. But we need to keep the dialogue going if we want to make a difference, and initiatives like World Water Day are key."
Groundwater is one of the world's most valuable invisible resources. According to the Stockholm International Water Institute, groundwater provides nearly half of the world's population with drinking water and contributes to about half of the global food production. For approximately 2.5 billion people, groundwater is their only source of fresh water.
Found in underground aquifers, the spaces between soil and rocks, groundwater is the largest supply of available fresh water. And this invaluable resource is under increasing pressure from both human activities and climate change. But large-scale conservation efforts, like water reuse, can go a long way to help protect groundwater sources.
"Rain and snow help to recharge the aquifers, but many aquifers are being depleted more quickly than they can replenish," VanHooydonk says. "That's why water reuse is so important. It's been a core area of our business for 20 years, and we want to do everything we can to help mitigate water supply issues."
Water reuse is, in the simplest terms, the recycling of wastewater. The level of treatment depends on the intended usage, either non-potable (such as recreational and agricultural irrigation, industrial processes, construction, equipment and vehicle washing, and street sweeping) or potable, which is intended to enhance drinking water supplies either through replenishing groundwater or by adding highly treated water directly into drinking water reservoirs or into the drinking water network.
Water reuse can help cities protect their water supplies throughout challenging environmental situations, such as extended droughts. Reuse helps keep local control of the water supply, which helps reduce dependence on costly imported water. It also helps protect groundwater resources by reducing withdrawals from aquifers.
It's not just municipalities that need to act to protect groundwater sources. Every citizen can contribute in little ways.
"It's easy for everyone to make small lifestyle changes that will help protect groundwater," explains VanHooydonk. "Properly dispose of household chemicals, like medications, paint, pesticides, and household cleaners. Turn off the faucet when you're brushing your teeth. Choose native plants for your yard, because they need less fertilizing and watering, and collect rainwater to use in the garden. And if you're in a rural area, make sure your septic tank isn't leaking and that your well is properly maintained. If millions of people made these small changes, it could have a big impact on groundwater supplies."
World Water Day is every year on March 22. It is an annual United Nations Observance, started in 1993, that celebrates water and raises awareness of the 2 billion people currently living without access to safe water. A core focus of World Water Day is to inspire action towards Sustainable Development Goal (SDG) 6: water and sanitation for all by 2030.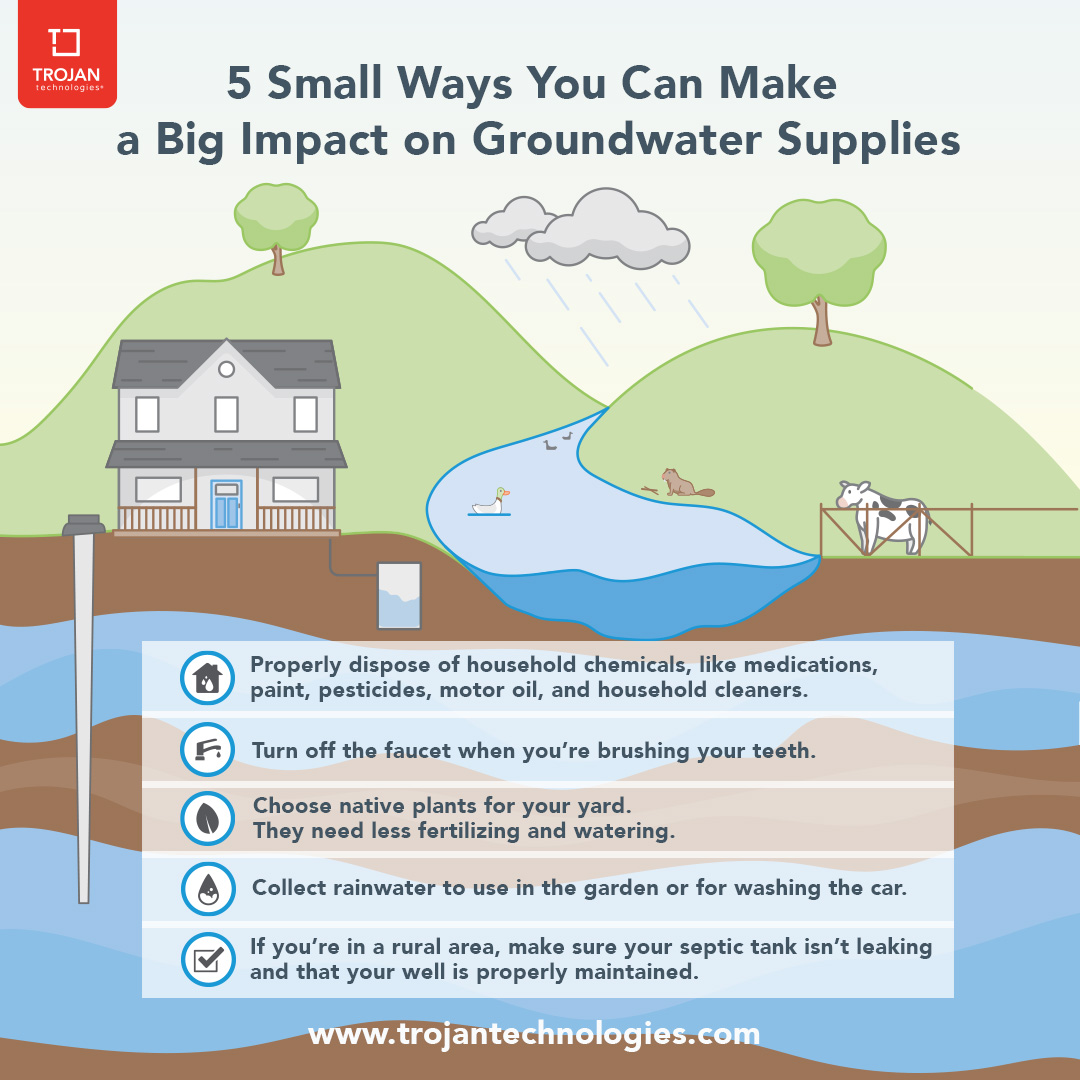 Trojan Technologies serves performance-driven municipal, industrial, and residential water treatment professionals by engineering solutions that enable our customers to meet their water quality objectives and improve the lives of more than 1 billion people globally. Our products and services play vital roles in making the various stages of the water treatment process more effective, efficient and sustainable. Applications and markets served include municipal wastewater, drinking water, environmental contaminant treatment; residential water treatment; ultra-purification of water used in food and beverage manufacturing, pharmaceutical processing, and semiconductor applications; filtration and solids separation. Trojan Technologies product brands include TrojanUV, Aquafine, VIQUA, Salsnes Filter, and Pall Water. For more information visit www.trojantechnologies.com.