New Certifications For VIQUA UV Systems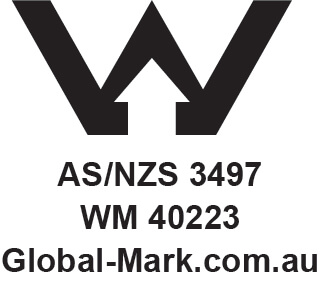 It takes more than a quality product and innovation for a company to become a market leader. Understanding regulations in various markets and investing in certifications are also key. We are pleased to announce the WaterMark™ designation.
WaterMark is a certification trademark for water supply, sewerage, plumbing, and drainage products in Australia and New Zealand. The intent of the WaterMark is to help Australian consumers be confident about the quality of the plumbing products they're purchasing, regardless of whether the goods are manufactured domestically and abroad. We recently applied for and were granted WaterMark certification for the UV systems listed in Table 1.
Having UV systems that are suited to residential flow rates as well as those that handle higher flow rates or offer more technical features gives a wide range of end-users confidence in the VIQUA brand.
Table 1: WaterMark Certified UV Systems from VIQUA
Model
Classification
Part Number
D4-V
Home
660039-R/2AW
D4-V+
Home
660042-R/2AW
SV5Q-PA
Home
SV5Q-PA/2AW
SV8Q-PA
Home
SV8Q-PA/2AW
E4-V
Professional
660040-R/2AW
E4-V+
Professional
660043-R/2AW
F4-V
Professional
660041-R/2AW
F4-V+
Professional
660044-R/2AW
PRO10
Professional
650650/2AW
PRO20
Professional
650656/2AW
PRO30
Professional
650662/2AW
These products can be found in the WaterMark Product Database and are identified by the WaterMark certification trademark as above. To search the database, go to www.abcb.gov.au.
Applying for third-party certification is not as simple as making a request or filling in a form. In the case of WaterMark for instance, any manufacturer applying for certification must be willing to:
Submit product for performance testing (or produce proof of current validation achieved through a similar certification body, such as NSF);
Undergo an initial manufacturing site audit;
Demonstrate a high level of document control and maintain quality logs that may be requested for review at any time; and
Submit the initial and renewal fees.
For many years now, we have worked with NSF® to achieve and maintain NSF 55 Class A and NSF 55 Class B validations on a variety of our UV systems. NSF is one of the most recognized marks in water treatment.
NSF International is also a very well respected, independent certification organization. These are the folks who actually develop the standards to which water treatment products are tested. When a UV system is NSF certified, it means the UV system complies with the strict standards and procedures imposed by NSF, including extensive product testing and material analyses. But, in addition, as the manufacturer, VIQUA is also subjected to unannounced plant inspections and regular re-testing of our products to maintain the NSF certification. It is not a one-time event, it's an ongoing review process. NSF certification is recognized by regulators at all levels, from local and state to federal and international.
Sometimes you may encounter a product that is described or labelled as "NSF validated". This means that the product was tested by a third party to the standards established by NSF, but the actual testing of the product was not done by NSF, nor is NSF inspecting that manufacturer's facility to ensure continued product quality and performance. Not really the same thing.
Lastly, we know that water treatment continues to grow in importance in emerging markets, too. In China, the Ministry of Health (MoH) has established its own standards for water treatment products, and we are in the process of securing certification for various UV systems that best meet the needs of that market. The first of these received MoH approval in September of this year and include the following residential UV systems:
IHS12-D4/CHN
IHS22-D4/CHN
IHS22-E4/CHN
VT1-DWS/CHN
VT4-DWS/CHN
VT4-DWS11/CHN
Even before COVID-19, Legionella had the distinction of being one of the leading water-borne disease agents in the USA, with reported cases growing more than five-fold from 2000-2017 (CDC). But now, as COVID-19 and stagnant water due to building closures collide, the...